BrainStorm conference – powered by IBM
Are you interested in where the (IT) world is heading? Come and get inspired by lectures and workshops from experts in artificial intelligence, data science, UX/UI design, and much more! Take the opportunity to network with top companies and IT professionals on October 11th at the Faculty of Electrical Engineering and Informatics of the Slovak University of Technology in Bratislava. A full-day program and various accompanying activities are prepared for you. The entire event is free, you just need to register.
For more information about the topics of the lectures or the professional background of our speakers, please visit our partner site:
https://ibm.biz/yzone_brainstorm2023
However, if you want to receive current updates and participate in online discussions about the event, join us on Facebook: https://ibm.biz/fb_brainstorm2023
Registration for workshops here: https://ibm.biz/brainstorm_workshops
By registering to this event you can participate in an iPad giveaway!
We will choose the winner right at the event before the last lecture.
Program: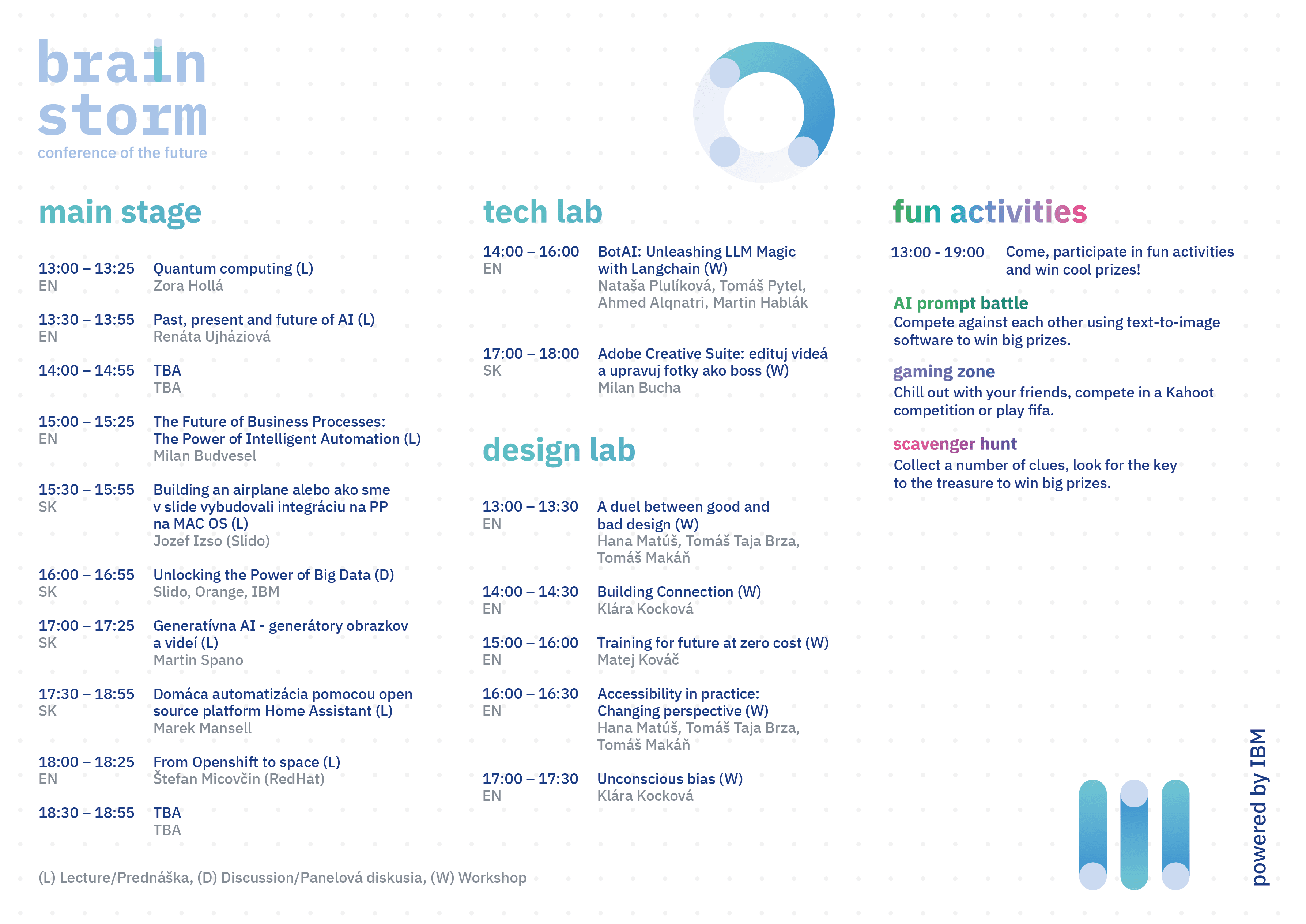 11/10/2023

A duel between good and bad design

Past, present and future of AI

Why (wAI) now and whAt Is next?

BotAI: Unleashing LLM Magic with Langchain

The Future of Business Processes: The Power of Intelligent Automation

Training for future at zero cost

Building an airplane alebo ako sme v slide vybudovali integráciu na PP na MAC OS

Unlocking the Power of Big Data

Accessibility in practice: Changing perspective

Generative AI - generators of images, videos, etc.

Adobe Creative Suite: edit videos and photos like a boss

Home automation using the open source Home Assistant platform